Bishop Townshend has accepted the wish of the Reverend Canon Dr. Lorne Mitchell to retire as the rector of St. James', Stratford, effective July 1, 2022.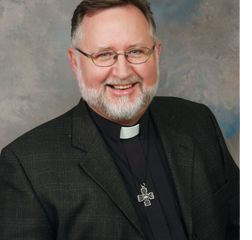 Canon Lorne was ordained a deacon on May 22, 1988 in the Diocese of Ontario and priested in March of 1989. He came on the strength of Huron in 1994 and served the parishes of St. John the Evangelist, Kitchener and St. James', Stratford. Canon Lorne served on the Postulancy Board, the Doctrine and Worship Committee and as the Archdeacon of Huron/Perth. He was named to the Cathedral Chapter of Canons in 2010.
Bishop Townshend appoints The Reverend Canon Robert Park as the rector of St. Mark's, Brantford, effective January 1, 2022.

Canon Rob is currently the rector of St. George's, Georgetown in the Diocese of Niagara.
Bishop Townshend announces that the following will be called to the Diaconate at a service of Ordination to be held on Tuesday, November 30th, the Feast of St. Andrew at 7pm at the Cathedral Church of St. Paul, London:

Mr. Brendon Bedford
Ms. Stephanie Donaldson
Ms. Jean Doyle
Mr. Gilles Hache
Mr. Craig Love
Ms. Carol McCurdy
Ms. Ann Webber
Due to COVID-19 restrictions, attendance is by invitation only. Please keep the ordinands in your prayers as they prepare for ordination.